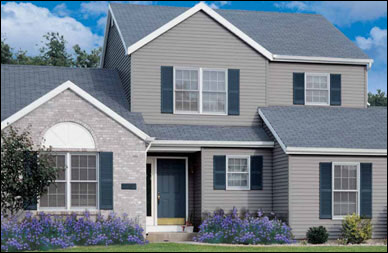 Waunakee Residential and Commercial Roofing Services
Billed as "The Only Waunakee In the World", Waunakee is home to over 13,000 people. Infinity Exteriors has completed several roofing, siding, window replacement, and gutter jobs around the Madison area. If you were to ask each homeowner how satisfied they were with their results, we can confidently guess that it'd be nothing but praises. If you're a little skeptical about how confident we are in our own work, you can contact us for a free consultation and let our work speak for itself!
The Best Roofing Contractors for Waunakee Residents
There's a good reason why so many roofing contractors are jealous of our service map - our meticulous attention to detail and exceptional customer service makes us the go-to contractors in Southeast Wisconsin. We always make sure to do things right the first time around, which we back up with lifetime warranties and a satisfaction guarantee. If you have any issues with the outcome of any of our jobs, we'll come back to make it right - free of charge!
Get a
Roofing Quote
---
Good
Modeled after handsome cedar shake of Colonial America
Class A fire-resistant
Proprietary streak fighter layering is guaranteed to prevent airborne algae from striping for 10 years
Fortified by a lifetime limited warranty
When our expert roofers install Certainteed Landmark Classic laminated asphalt shingles, you'll experience what makes Infinity Exteriors the best Wisconsin roofing company.
MORE INFORMATION
Contact the best Waunakee roofing contractors at Infinity Exteriors to get a quote.
Better
At 270 lbs per square, it outperforms standard laminate
Traditional shades replicate the sleek durability of slate or natural wood at a reasonable price
Designed for precise roofing specifications, a go-to shingle for fastidious craftsmen
Complete with Certainteed's generous lifetime limited warranty.
The Certainteed Landmark Pro asphalt shingles are laminated and thicker than Landmark Classic.
MORE INFORMATION
Contact the top Wisconsin roofers at Infinity Exteriors for more information on our superior roof installation services.
Best
Trademark Max Def coloring means a lusher blend of surface granules
Laminated fiberglass construction outperforms standard shingles in fire, wind, and tear resistance
Comprehensive coverage from Certainteed's lifetime, limited transferrable warranty.
The Certainteed Northgate SBS Modified asphalt shingles are available in a finer selection of colors and are constructed with unmatched quality.
MORE INFORMATION
Call Infinity Exteriors for the best Waunakee roofing contractors providing unrivaled Wisconsin roof installation services backed by a superior roofing warranty.
Wood
Cedar wood shingles are natural and resilient, giving your roof quality protection and incredible beauty. Cedar gives any home a classic look, and Infinity contractors have even installed cedar shingles on historic homes. The wood has natural strength, making it just as good as asphalt and stone. Like all wood, different stains may be applied to create a richer color or hue. Our unequaled lifetime warranty will keep your cedar wood roof in great shape for years and years. Roof installation services from Infinity Exteriors cover full replacement costs for a lifetime guarantee.
Contact Infinity Exteriors' contractors for cedar roof installation services backed by a lifetime warranty.
Slate & Shake
DaVinci Roofscapes' slate roof tiles and shake shingles provide optimum protection for your home while adding beauty and value. The expert Waunakee roofing contractors at Infinity Exteriors Waukesha have years of experience utilizing top quality DaVinci polymer roofing materials for our unparalleled roof installation services. All our Wisconsin roofing services are backed by a lifetime workmanship warranty to ensure your roof remains steadfast for years to come.
Contact the expert roofers at Infinity Exteriors to learn more about DaVinci Roofscapes and the best Wisconsin roof installation services backed by an unbeatably Infinity warranty.
Metal
Decra stone coated steel roofing shingles are unrivaled in durability and beauty. The highly-rated, energy-efficient shingles are made of partially recycled materials making Decra steel coated roofing shingles a great, environmentally friendly choice for your Waunakee roof installation needs. A 50-year manufacturer warranty combined with Infinity's unmatched lifetime warranty means you'll rest easy for years knowing your home is protected. Roof installation services from our expert Waukesha roofers are backed by the best Wisconsin roofing lifetime warranty covering full replacement costs.
Contact Infinity Exteriors' top Waunakee roofing contractors for the best roof installation services guaranteed by our exclusive lifetime warranty.
Replacement Windows, Siding, Gutters, & More for Waunakee Homes & Businesses
Older homes seem to always have something to fix. It's especially common for older homes to lack proper attic insulation, which can compromise the performance of your roofing system. All of our roofers and installation professionals are highly trained, insured, full-time employees of Infinity Exteriors. No job is complete until we've thoroughly cleaned up the job site and you're completely satisfied with the result.
BACK TO ALL SERVICE AREAS