Wisconsin Roofing Contractors Certifications and Awards
Infinity Exteriors has received more awards from more organizations than any other Waukesha, Appleton, or Madison roofing company. The reason is simple; we deliver the best roofing services time and time again. From customers, to manufacturers, to trade organizations, people truly appreciate the top Milwaukee roofing contractor– Infinity Exteriors.
Contact Wisconsin's home improvement experts for outstanding window installation, roof repair, and siding to make your home beautiful.
Wisconsin Roofing Awards
Angie's List Super Service Award for the 10th year in a row!
MILWAUKEE gutter installation
Family owned & operated. No payments until job is done and you are happy. Fully insured and bonded. Great Angie's list discounts! 9 out of 10 BRAND NEW roofs installed today cannot pass a warranty inspection. Additional DBA - Infinity Exteriors. Award wining.
CALL Infinity Exteriors 262.650.5040 for service you will trust!
Select Shingle Roofing Company - Certainteed Top Level Installer
Infinity Exteriors has achieved and maintains this top level CertainTeed roofing credential, which represents the highest standards of excellence, quality and knowledge in the shingle roofing industry. An SSM has shown extensive knowledge of shingle installation and quality through rigorous testing, and have provided CertainTeed with proof of workers' compensation and liability insurance. Only an SSM can offer you the highest level of SureStart PLUS™ extended warranty coverage when an Integrity Roof System is installed on your home.
Certainteed Hammer Award 2008
Top Ten (#3) NATIONALLY for Warranty Sales
Platinum ABC Award Winner
We are the only roofing company in Wisconsin to receive this award which is given for perfect payment record on supplies - this may not seem important, until you get a lien placed on your house because your roofing contractor didn't pay their bills. (Always get a lien wavier!)
Milwaukee Roofing Contractor Certifications
Infinity Exteriors holds certifications from the leading building product manufacturers and trade organizations allowing us to provide you with Milwaukee roofing, siding, window, and insulation services superior to any other Wisconsin roofing company. When you hire Infinity Exteriors Milwaukee, you'll be confident knowing you've hired a Milwaukee roofing contractor and Milwaukee window installation specialist utilizing the latest techniques and best practices in the building industry. As certified trade organization members, Infinity Exteriors has greater educational and network resources to draw on. From our NARI membership updating us on prominent remodeling trends to product manufacturer training certifying us to provide quality Milwaukee roof installation and repairs, Infinity Exteriors holds the expertise to provide professional Milwaukee Roofing service.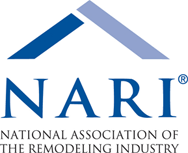 National Association of the Remodeling Industry (NARI) Member
As NARI members, Infinity Exteriors' Milwaukee roofing contractors and other service professionals enrich their building knowledge with innovative educational opportunities and certifications. Infinity Exteriors' access to the NARI's educational and training resources provides us with strong remodeling background knowledge for performing Milwaukee roofing, siding, and other services optimal to your home's overall well being. Hiring a NARI member like Infinity Exteriors means you've hired a remodeling professional adhering to the NARI's strict ethics of professionalism and workmanship.
Certainteed Select Shingle Contractor
Select ShingleMaster is the top Certain Teed roofing certification awarded to Milwaukee roofing contractors demonstrating the highest standards of excellence, quality, and knowledge in the roofing industry. Your home's Milwaukee roofing system is eligible for an extended warranty when installed by a Certain Teed ShingleMaster. Infinity Exteriors' Milwaukee roofing contractors provide you superior workmanship and customer service only available from a certified ShingleMaster.
Vinyl Siding Institute (VSI) Certified
Infinity Exteriors' Milwaukee siding installers hold a three year VSI certification qualifying them to provide quality vinyl siding installation meeting VSI's standards. VSI certified Milwaukee siding installers have access to valuable educational and training services allowing them to provide you with the highest quality vinyl siding installation.
Wisconsin Better Business Bureau A+ member without a single negative mark in 10+ years
As an accredited Wisconsin Better Bureau member, Infinity Exteriors has passed a strict screening process by meeting the BBB's standards of trust. When you hire a WBBB business with an A+ rating like Infinity Exteriors, rest assured you've hired a professional company with a proven history of providing customers with trustworthiness, honesty, truthfulness, honorability, safety, and integrity.
Alcoa Master Contractor
Alcoa Home Exteriors is an elite group of contractors providing homeowners with quality craftsmanship coupled with professional businesses practices. Infinity Exteriors is a recognized Alcoa Master Contractor subscribing to Alcoa Home Exteriors' professional conduct and customer service ethics.
JS Top Workplaces 2020
Infinity Roofing was voted one of the top workplaces in Wisconsin by Journal Sentinel.
LP Master Contractor
Only a handful of siding contractors in Wisconsin hold the LP Master Contractor level membership. Infinity Exteriors is one of those few.
Infinity delivers warrantied, guaranteed quality on every job: