Residential roofs installed by Milwaukee's best roofing contractors
For the best in craftsmanship, you need the best materials. Infinity Exteriors doesn't skimp on quality - we ONLY use the highest quality materials for each and every one of our roofing projects, including shingle replacement. Our roofers have years of experience with every type of asphalt shingle on the market. Only top brands like CertainTeed and Davinci meet our rigorous standards. Both of these brands are industry leaders for residential shingles and offer lifetime warranties serviceable by any approved contractor. There are no better choices when it comes to top-quality residential roofing. CertainTeed Landmark and DaVinci roofing materials provide lasting protection for your home as well as a look that ups your curb appeal.
Milwaukee's premier residential roofing installation, repair, & replacement company
Once one Infinity roof goes up, the rest of the neighborhood is soon to follow. Infinity's Milwaukee division serves the residents of:
Check out the residential roofing materials available to you below.
Call Infinity Exteriors at 262.650.5040 today to learn more about the best values on roofing in Milwaukee.
Make sure your Milwaukee roofing contractor meets the following criteria:
Fully licensed by the state of Wisconsin, and able to obtain all necessary city and state roofing permits for you.

Full liability and worker's compensation insurance to protect YOU.

Full lifetime warranty on materials and installation of your roof.

Installation methods meet manufacturer standards – proper ventilation, full-length ice and water barrier (3-5', depending on the house), proper installation of shingles - MOST Milwaukee area roofing contractors are taking shortcuts in one or more of these areas, VOIDING your roofing manufacturer's warranty.

Provides a lien waiver to move liability for materials payment from you to the roofing contractor.

AttiCat certified installer of attic insulation for energy efficiency and full prevention of ice damming.

Perfect record with the Better Business Bureau – The BBB gets more complaints about roofing contractors during roofing season than any other industry – Infinity Exteriors has not received a single complaint in 10 years of operation.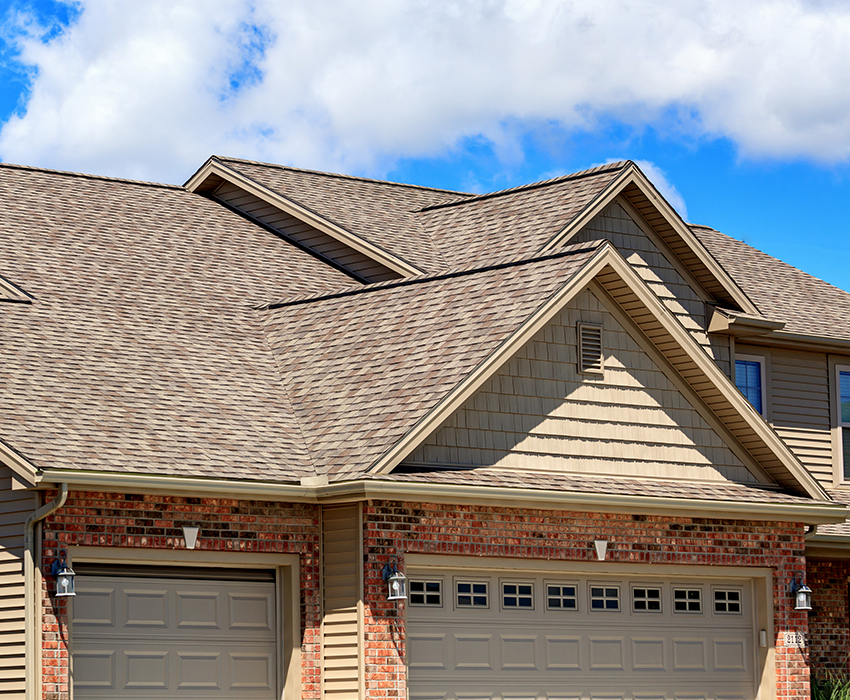 Asphalt shingles are the most popular roofing material used on American homes. They are durable, low-maintenance, and will provide your home with years of protection. Asphalt shingles are one of the most affordable options for a new roof and are available in plenty of colors and styles so you can find the perfect match for your home.
What's it gonna cost me?
Fast and easy estimate for your home roofing project
Best Warranty

in the roofing industry

Every Infinity roof is covered by our exclusive lifetime workmanship warranty:
Ensures the manufacturer's warranty remains VALID with perfect installation to exact manufacturer specifications (9 out of 10 new roofs installed today can't pass a simple warranty inspection due to shoddy workmanship which VOIDS the manufacturer's warranty)
Lifetime workmanship warranty covers the duration of the product's life
Over 18,000 warrantied roofs in SE Wisconsin
A warranty like Infinity's would BANKRUPT the average roofer by sheer volume of free roof repairs. Infinity's roofing-industry-best warranty thrives because mistakes are vanishingly rare and remedied without hesitation at a cost of 0 dollars and 0 cents to the customer. You'll pay nothing and receive the best customer service LONG after you have paid us for the project.

Ask your neighbors
I used Infinity for two different roofing jobs on my home in Milwaukee: a standard asphalt/shingle roof and a flat roof using tpo and aluminum through wall scuppers. I found that Infinity was extremely professional throughout the entire process, from initial consultation, to install and through final punch-out of details and payment.
Ryan Shortridge